Project Management
Blackstone Construction is a trusted provider of tiling and painting services for both residential and commercial properties. Our team of experienced professionals has the expertise and tools to handle tiling and painting projects of any size and complexity, from small repairs to complete renovations.
Materials
We use only the highest quality materials and innovative techniques to ensure that your tiling and painting projects are not only beautiful, but also durable and long-lasting. Our team can help you select the perfect color palette and tile design that matches your style preferences and complements the functionality of your property.
We will work with all project team members to define the logistical requirements for the construction process, such as areas for deliveries, placement of barricades (if required) and hours of operation.  
Essential
We understand that tiling and painting are essential components of your property's design and aesthetics, and we take the time to ensure that each project is completed with precision and care. Our team is dedicated to providing exceptional service and results, and we're committed to delivering a finished product that exceeds your expectations.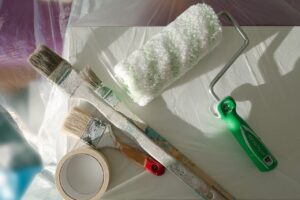 Quality
We believe that our commitment to quality, craftsmanship, and client service sets us apart from other tiling and painting companies. We take the time to understand your needs and work closely with you to ensure that your project is completed on time and to your satisfaction.
Service
Contact us today to learn more about our tiling and painting services and to schedule a consultation. We look forward to helping you enhance the beauty and value of your property with a high-quality tiling and painting solution.